"Okay, God, I forgive my father." Sexual abuse at a young age had left serious consequences–anxiety, distrust, debilitating fears, and intrusive memories of the abuse. The abuse had also contributed to severe mental illness. At the time I said those words, I'd  just gotten out of the hospital from my second inpatient stay.
Diagnosed manic-depressive, I was more depressed than manic after recovery from the out-of-contact-with-reality delusions that had put me in a locked ward with injections of anti-psychotic medication. I was in my mid-twenties then, thirty-five years ago.
I hated my father. Forgiveness wasn't on my agenda.
However, I'd read the Matthew 18 parable that Jesus tells of the unforgiving steward who gets thrown into a torturer's den because he, having been forgiven, did not forgive. I grasped that my emotional turmoil was a torturer's den. And it was related, not just to genetic susceptibility and the abuse, but also to my own unforgiveness.
So, in faith, with gritted teeth, I said the words, to God: "Yes, I forgive." Immediately, an ugly flashback, with deep feelings of revulsion. "No! I have forgiven him. Today, this day, from now on, he is forgiven. The debt is canceled. Yes, he owes me immensely. He damaged my life. It is, in one sense, unforgiveable. And yet, by grace, I will forgive. I will no longer seek revenge. I will surrender hatred. I will rely on God's power to keep that debt canceled."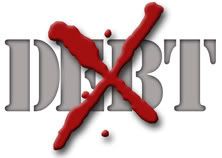 When I took the step of canceling my father's debt, I didn't know much about the process of forgiveness. I just knew my own heart's conviction.
For me, this step of cancelling the debt came second, right after identifying the sin. It was only later that I began to identify and feel my feelings and develop empathy for my father.
That process of emotional forgiveness took ten years.
But the decision to forgive was recorded in God's books the day I said the words.
Whether you cancel the debt you are owed at the beginning or in the middle of the process, saying the words "I forgive X, for doing Y" is the center of the challenge of forgiving those who have sinned against us. And, I am convinced, my current mental health (no medications for past thirty-three years) and my ability to be a psychotherapist began with those simple, yet powerful words. "I will forgive."
Has God brought someone to mind whose debt you need to cancel? Are you willing to say the words, "God, I forgive ______ for ________" ?
Jesus, we are desperately in need to grace to cancel the debts others owe us. So many sins against us feel unforgivable.  Only you, who forgave your abusers from the cross, can understand and help. We need you. For your glory, Amen.